On September 6th, market research agency Canalys announced the latest data. In the second quarter of 2021, the total global shipments of wearable wristband devices reached 40.9 million, a year-on-year increase of 5.6%. Among them, the shipment of smart bracelets began to decline from the fourth quarter of last year, and has fallen by 23.8% as of the second quarter of this year, with shipments of only 15.5 million. Shipment of basic watches and smart watches reached 25.4 million, a year-on-year increase of 37.9%.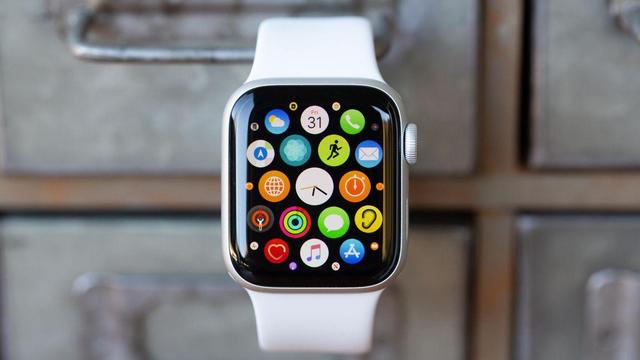 It is understood that in the fourth quarter of 2020, the shipment of wristband watches exceeded that of smart bracelets for the first time, and shipments accounted for more than 60% for three consecutive quarters, and the second quarter of this year also accounted for 62%. Canalys predicts that the shipment of wristband watches will continue to grow in the next few years, and it will become the key to promoting the growth of the "wearable wristband device" category.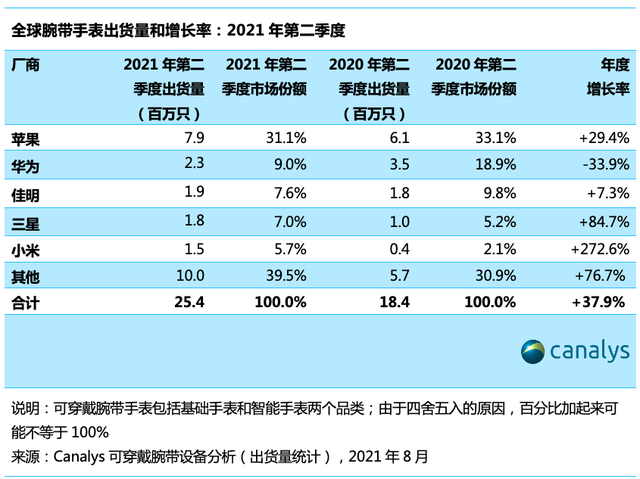 In terms of brand shipment rankings, in the second quarter, Xiaomi's shipments reached 8 million, with a market share of 19.6%; Apple's shipments were 7.9 million, with a market share of 19.3%; Huawei's shipments were 3.7 million, with a market share of 9.2% . Xiaomi once again surpassed Apple in this category, becoming the world's number one in the field of wearable wristband devices.
Subdivided into the field of wristband smart watches, Apple Watch's shipment volume still ranks first in the world, with shipments of 7.9 million and a market share of 31.1%. Followed by Huawei, Garmin and Samsung. Xiaomi only occupies the fifth position, with only 1.5 million shipments and a market share of 5.7%.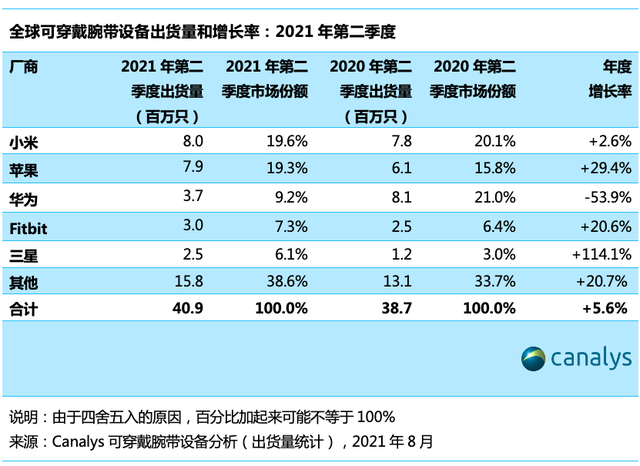 The biggest contributor to Xiaomi's ability to surpass Apple in the category of wearable wristband devices should come from the Mi Band 6. Although the new product has not changed much from the previous generation of Mi Band 5, there are still many users who have upgraded and updated, which has contributed a huge amount of shipments to Xiaomi.
Back to the entire global market, shipments of smart sports bracelets such as the Mi Band 6 have been declining for several consecutive quarters. The pace of product updates by manufacturers has slowed down, and the functions and performance of the products have almost reached the bottleneck. Lack of product innovation, consumers' desire to buy began to decrease.
Although smart watches have also encountered bottlenecks in functional innovation, their professional health and exercise management functions can still attract many users. Many traditional watch users have begun to turn to smart watches, and a large number of new users have also been introduced into the field.
Soon, Apple will release the Apple Watch 7 series of smart watches, which are said to have been upgraded in terms of appearance and functions. I believe this will be a particularly popular product.